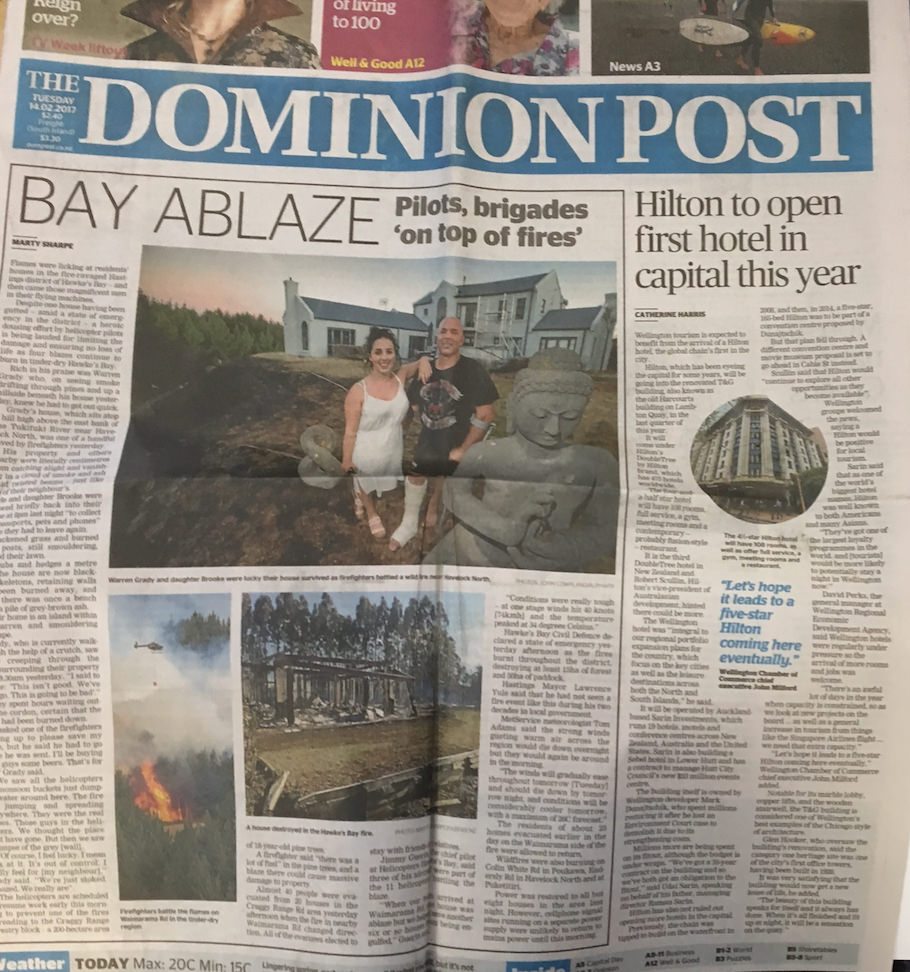 Wellington tourism is expected to benefit from the arrival of global hotel chain Hilton's first hotel in the city.
Hilton, which has been eyeing the capital for some years, will be going into the renovated T&G building, also known as the old Harcourts building on Lambton Quay.
It will come under Hilton's DoubleTree by Hilton brand, which has 475 other hotels around the world.
The four-and-a-half star hotel will have 108 rooms, full service, a gym, meeting rooms and a contemporary – probably fusion-style – restaurant.
​It is the third DoubleTree hotel in New Zealand and Robert Scullin, Hilton's vice president of Australasian development, hinted that there could be more.
The Wellington hotel was "integral to our regional portfolio expansion plans for the country, which focus on the key cities as well as the leisure destinations across both the North and South Islands," he said.
It will be operated by Auckland-based Sarin Investments, which runs 19 hotels, motels and conference centres across New Zealand, Australia and the US.
Sarin is also building a Sebel hotel in Lower Hutt and has the contract to manage the Hutt City Council's new $23 million events centre.
The building itself is owned by Wellington developer Mark Dunajtschik, who spent millions restoring it after he lost an Environment Court case to demolish it due to its strengthening costs.
Millions more are being spent on its fit-out, although the budget is under wraps..
"We've got a 35 year contract on the building.and so we've both got an obligation to the fit-out," said Udai Sarin, speaking on behalf of his father, managing director Raman Sarin.
Hilton has also not ruled out opening more hotels in the capital.
Previously the chain was tipped to build on the waterfront in 2008, and then in 2014 a five-star, 165-bed Hilton was to be part of a convention centre proposed by Dunajtschik.
But that plan fell through, and a different convention centre and movie museum proposal is set to go ahead in Cable St instead.
Scullin said that Hilton would "continue to explore all other opportunities as they become available"..
Wellington groups welcomed the news, saying a Hilton would be positive for local tourism.
Sarin said that as one of the world's biggest hotel names, Hilton was well known to both Americans and many Asians.
"They've got one of the largest loyalty programmes in the world and [tourists] would be more likely to potentially stay a night in Wellington now."
David Perks, general manager at Wellington Regional Economic Development Agency, said Wellington hotels were regularly under pressure so the arrival of more rooms and jobs was welcome.
"There's an awful lot of days in the year when capacity is constrained, so as we look at new projects on the board … as well as a general increase in tourism from things like the Singapore Airlines flight … we need that extra capacity."
"Let's hope it leads to a five-star Hilton coming here eventually," Wellington Chamber of Commerce chief executive John Milford added.
Notable for its marble lobby, copper lifts, and the wooden stairwell, the T&G building is considered one of Wellington's best examples of the Chicago style of architecture.
Glen Hooker, who oversaw the renovation, said the category one heritage building was one of the city's first office towers, built in 1928.
It was very satisfying that the building would get a new lease of life.
"The beauty of this building speaks for itself and it always has done, and when it's all finished and lit up at night it will be a sensation on the quay."
Source: The Stuff | Business Day